With less than six months before the election, the Democrats are benefiting from a positive political environment. Since January, six Republican state legislative seats have flipped, each with its own story but a consistent theme—Democrats are over performing. In all six contests, the winning Democrat exceeded the NCEC's Democratic Performance Index and outpaced Hillary Clinton's major-party percentage. Donald Trump's approval rating remains low, so Democrats can succeed if voters weigh their choice in November as a check on his party and his agenda.
However, economic indicators make the scale of that advantage difficult to gauge. Traditional metrics such as the generic congressional ballot and voter enthusiasm all suggest momentum for Democrats, but Americans are not quite ready to abandon the Republicans, in part because of the strong economy. A recent NBC News poll shows Democrats with an advantage on certain issues facing Americans—particularly healthcare—but they prefer Republicans on managing the deficit and taxes.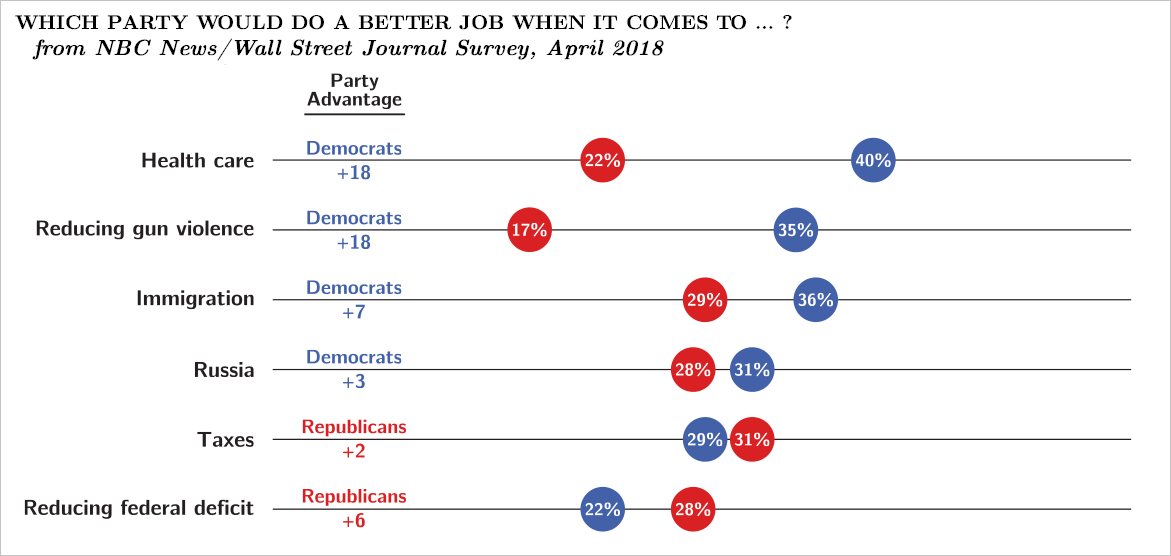 Voter enthusiasm will be the detail to watch as the election approaches. The figure here shows the Gallup measure of U. S. adults who say they are more enthusiastic than usual about voting in a given year. The connection between enthusiasm and the result of an election is arguably weak, but wave elections occurred in years when the margin between both parties' voters was widest—1994, 2006, and 2010. In each case, the party favored by the enthusiasm gap made significant gains in the U. S. House and added five or more seats in the U. S. Senate.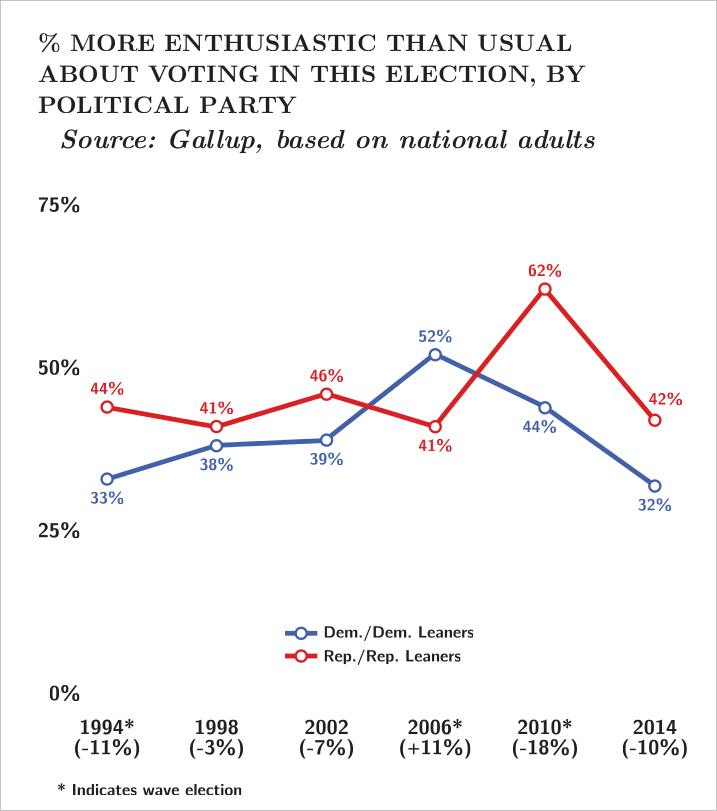 So far this year there are no Gallup reports on voter enthusiasm, but there are other encouraging signs for the Democrats. A recent Washington Post-ABC News poll shows a majority of registered voters prefer the Democrats in the generic congressional ballot. The same poll also indicates voters of both parties are even in reporting their intention to vote this year. In blowout years for Republicans, that metric showed them with a double-digit advantage. For Democrats, who typically suffer low turnout in midterm elections, this could be a good sign.