From the beginning of the election cycle, it was widely assumed that the Senate seats in Arizona and Nevada were the only two likely Democratic targets this fall. But the retirement of Senator Bob Corker and the candidacy of former governor Phil Bredesen has created an opportunity for the Democrats in Tennessee. Additionally, Texas Democrat Beto O'Rourke is putting pressure on Senator Ted Cruz through record fundraising and frequent campaign stops, but a win there still seems unlikely.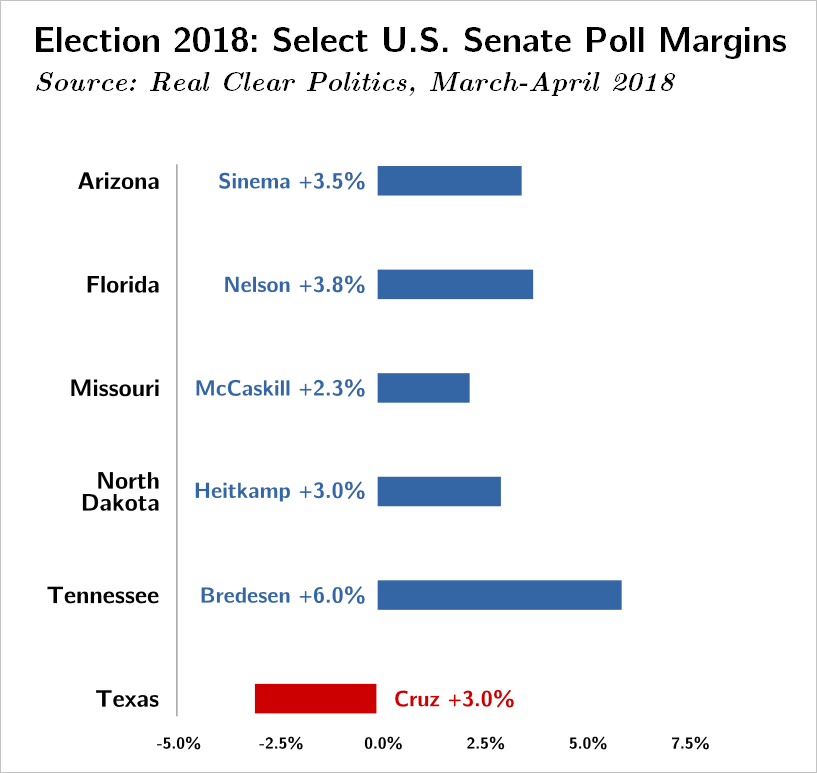 Arizona: Congresswoman Kyrsten Sinema appears the most likely Democratic candidate for the general election, though she faces a contested primary. Arizona has emerged in recent years as a battleground state, and  the retirement of Senator Jeff Flake and uncertain future of Senator John McCain have drawn considerable attention to the state for this fall. If Senator McCain were to announce his retirement before May 30, his seat will be on the ballot this November.
The Republican primary to replace Jeff Flake is reminiscent of the Tea Party versus establishment days of 2012, with establishment Congresswoman Martha McSally running against Tea Party champion Dr. Kelli Ward and recently pardoned hardline sheriff Joe Arpaio. It is possible that Arpaio and Ward will split the right-wing vote, leaving McSally an easier path to victory.  Attempting to win-over extreme primary voters may force McSally to adopt some unpopular positions. A recent poll showed her pulling ahead of Arpaio and Ward by ten points.
A growing Hispanic population and the sentiments of suburban voters could transform Arizona into a battleground state. An April poll gave Sinema a 5-point lead. (47% – 42%).
Nevada: Congresswoman Jacky Rosen is the anticipated Democratic candidate, but right now several other candidates are vying for the nomination. Recent polling from Gallup shows President Trump's approval rating at just 45 percent in Nevada, and Democrats have dominated recent statewide contests. Hillary Clinton carried the state relatively easily in 2016, and along with Senator Cortez-Masto's victory, represented one of the few bright spots of the election.
Senator Dean Heller has run in competitive contests since his days in the House, and all signs suggest he faces another tough challenge this year. In recent elections, Democrats have taken advantage of the state's growing population to win. There is a good chance this can happen again. Recent fundraising numbers showed Rep. Rosen amassing twice as much as Sen. Heller so far this year.
Tennessee: The Democrats successfully recruited former Governor Phil Bredesen, a top-tier candidate with statewide familiarity. For the first time since 2006, Tennessee is poised to be the site of a competitive Senate race. It was that year when Senator Bob Corker outlasted Democratic candidate Harold Ford Jr. in a close race decided by single-digits. Corker decided earlier this year not to run for election. History shows that open-seat contests remain the most likely to change hands.
On the Republican side, Congresswoman Marsha Blackburn faces a crowded field, which includes former Congressman Stephen Fincher. Tennessee's Republican base and Donald Trump's continuing popularity are obvious obstacles to a Democratic victory—his most recent job approval rating is a strong 55 percent but a recent poll in March showed Bredesen with a 5-point advantage (46% – 41%) over Blackburn. Also, speaking to reporters this week, outgoing Senator Corker made complimentary remarks about Bredesen, possibly encouraging some Republican voters to cross over and support him.
Texas: Congressman Beto O'Rourke—the Democratic candidate—has low statewide name recognition, which he plans to remedy by traveling to all 254 Texas counties. Democrats have not won a statewide contest in Texas in over 20 years, but as the state continues to change demographically, competition between the two parties has heightened. A recent analysis from CB Polling suggested that there has been a 37 percent growth in Democratic voters since 2004, further demonstrating the changing dynamics in the state. Senator Ted Cruz's anemic approval ratings—measured recently at just 38 percent—provides another reason for measured optimism.
In 2016, Hillary Clinton lost the state to Donald Trump by 9 points, improving significantly on Barack Obama's 16-point loss to Mitt Romney in 2012. Rep. O'Rourke managed to raise more money than Cruz in the first  quarter of 2018, and there's ample reason to expect a competitive contest. In fact, a poll from Quinnipiac showed Rep. O'Rourke trailing Sen. Cruz by just 3 points.