With your support, the NCEC can contribute valuable campaign analysis and planning tools to progressive candidates and help protect our democracy from right-wing extremism.
Make a One-Time Contribution
Since our founding, the work of the NCEC has been made possible by the contributions of our members.
Making a contribution to the NCEC remains on of the most consequential actions you can take as a donor. When you contribute to the NCEC, you're not paying for slick media campaigns or high-priced executives, you're making it possible for campaign staffers to know exactly where their swing voters are located, and how to get them to the polls. Your support wins campaigns!
The NCEC remains the most trusted source for data and expertise in progressive politics, and together we can take back our government.
By becoming a member today you will receive: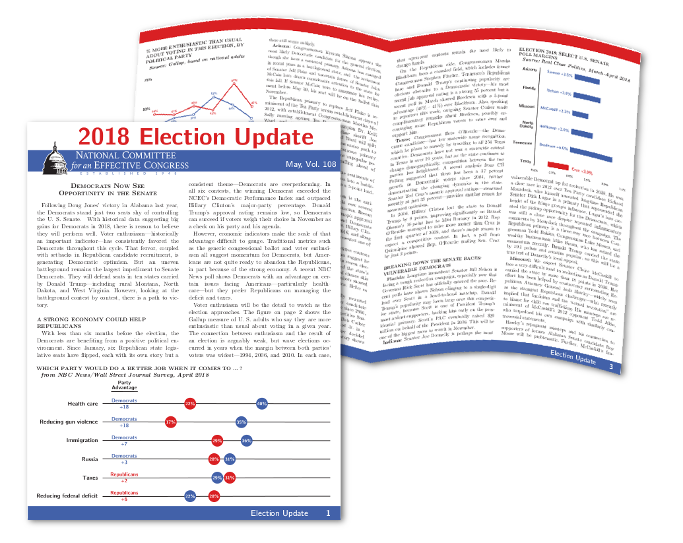 An official NCEC membership card
Our quarterly Election Update newsletter
Access to regular updates from our President.
NCEC's financial statements are filed with and available from the Federal Election Commission, Washington, DC 20463. Contributions to NCEC are not deductible on Federal tax returns.
Make a Monthly Contribution
By donating as little as $15/month, you expand your impact by giving the NCEC the sustained support to expand our efforts and plan for the future.
Political fortunes are always changing, and opportunities to win close races arise at a moment's notice. Monthly contributions give the NCEC the sustained ability to react to changing events and provide our help to a campaign without delay.
If you have questions, please contact us.

Join the Founders Society—Leave a Legacy
The Founders Society was created in 2017 to recognize committed individuals who share our vision of a progressive future, backed by the work of the NCEC.
The members of the Founders Society have named our organization as a beneficiary of their estate plans. We are eternally grateful for their generosity.
The commitment and vision of these donors is essential to the NCEC's continuing work to elect representatives that will build a future that works for all Americans.
How to Join
The following types of commitments, confirmed in writing and subject to certain restrictions, qualify you for membership in the Founders Society:
A bequest in your will or revocable trust
A life income gift that names the NCEC as a remainder beneficiary, such as a charitable gift annuity, or a pooled income fund gift
A charitable lead trust that provides income to NCEC for a donor's lifetime or a term of years
A gift or assignment of qualified retirement plan assets, such as an IRA, 401(k) or 403(b)
If you have already included the NCEC in a bequest or other planned gift, we hope you will let us know by filling out the member profile form.
Your willingness to be listed as a member of the Founders Society will encourage other members to follow your lead.
We recognize and respect the wishes of those who wish to remain anonymous, but we urge you to let us know of your plans on a confidential basis. If you have not yet included the NCEC in your estate and you would like to explore the best options for you and your family, do not hesitate to contact us. We would be glad to provide a confidential forum to discuss your options without any obligation.