Earlier this month, Mitch McConnell radically changed United States Senate rules to force through Donald Trump's right-wing Supreme Court nominee. Invoking the so-called "nuclear option" will fundamentally alter how the Senate works in the future, and makes regaining control of the US Senate more important than ever for Democrats. In 2018, they will be defending 23 seats, compared to the Republicans who must defend just 9 seats. Democrats need at least four more seats to control the chamber, and there are some vulnerable Republican targets facing reelection.
Of course, the Trump administration's struggles have created a far more advantageous political environment than could be imagined at the beginning of the year, but capturing the necessary seats to regain the chamber will be a challenge.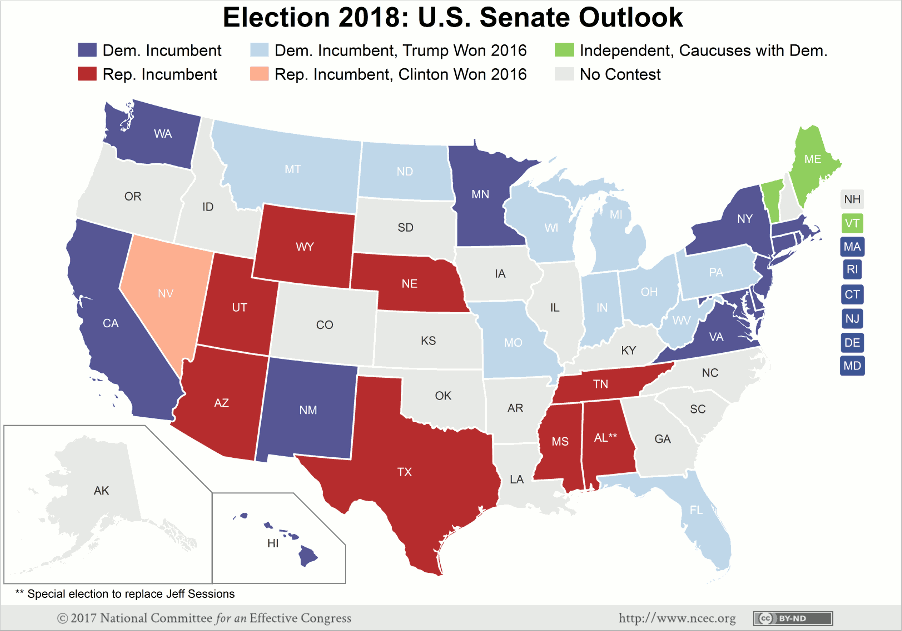 Democratic Opportunities
Of the nine Republican-held seats up for reelection in 2018, the most obvious targets are Arizona and Nevada.
Arizona—Jeff Flake
Hillary Clinton managed to expand the battleground map to Arizona in 2016, coming within 3.5 points of carrying the state. Demographically, the state is becoming more Hispanic and, should the current trends hold, it's possible that a Democrats could unseat Republican Senator Jeff Flake. Flake already has a primary challenger—the former State Senator Kelli Ward, who challenged Senator John McCain in 2016—and others may follow. He has declined to fully embrace Donald Trump, which could prove beneficial or detrimental as Election Day nears. Potential Democratic challengers include state Representative Kyrsten Sinema and former Congresswoman Ann Kirkpatrick, who lost in her bid to unseat McCain in 2016.
Nevada—Dean Heller
Senator Catherine Cortez Masto's victory in Nevada represented one of the few bright spots for the Democrats in 2016, as they fell short of retaking the chamber. Now, Democrats will attempt to win the other Senate seat in Nevada, and recent election results suggest that they have a good chance to do it. Congresswoman Dina Titus (D-1st District) is said to be considering a run, which would give the party a strong candidate. Nevada continues to trend Democratic and Heller, who narrowly won reelection in 2012 by 11,000 votes, will be the Democrats' top target.
Red State Democrats—Most Vulnerable
In all, there are 10 sitting Democrats who face reelection in states carried by Donald Trump in 2016. Each one of these incumbents faces a tough race ahead.
Indiana—Joe Donnelly
Senator Joe Donnelly won a close race in 2012. He defeated Tea Party darling Richard Mourdock, who himself unseated longtime Republican Senator Dick Lugar in a primary that represented the height of the fringe group's influence. Lugar's loss created the pickup opportunity for the Democrats, which was still a close race despite repeated inflammatory comments by Mourdock throughout the campaign. We don't know if Senator Donnelly will once again enjoy the benefit of a self-destructive opponent, but Donald Trump carried the state by 19.1 points in 2016. Former Dan Coats aide Mark Hurt has already announced he's running, and Congressmen Todd Rokita and Luke Messer both say they're being encouraged to run.
Missouri—Claire McCaskill
Claire McCaskill won a 2012 campaign that most political observers had written off as a certain Republican victory. Republican candidate Todd Akin ultimately torpedoed his campaign with comments about "legitimate rape." Missouri has undergone a major political makeover in the last 10 years, evolving from a fierce battleground where the presidential race was decided by less than a percentage point in 2008, to a solid Republican state that went for Donald Trump by more than 18 points. McCaskill will no doubt face a well-funded challenger in 2018—potential candidates include Republican Representatives Ann Wagner and Vicky Hartzler, as well as state Attorney General Josh Hawley. Senator McCaskill must reconnect with rural voters in the state who have deserted the Democratic Party in recent cycles.
Montana—Jon Tester
Senator Jon Tester's two previous elections emerged in times that at least nominally favored Democrats. Should Donald Trump prove to be a drag on the Republican brand, the senator may once again be the beneficiary of a political boost. However, Tester has yet to win an outright majority of voters in any of his contests. Instead, victories were achieved when third-party Libertarian candidates siphoned votes away from Tester's Republican opponent. Trump's appointment of former Congressman Ryan Zinke to head the Department of the Interior removed one of the most likely challengers. Still others remain, such as Attorney General Tim Fox and Secretary of State Corey Stapleton, both current statewide officeholders.
North Dakota—Heidi Heitkamp
Senator Heitkamp's narrow victory in 2012 could be considered the shocker of that election, which of course means she'll be in for a tough campaign next year. Republican Congressman Kevin Cramer appears to be her most likely challenger—North Dakota's obvious Republican bent gives him an advantage, but it's too early to tell how much of one he will have. Senator Heitkamp showed additional strength this week with news that she raised $1.6 million in the first quarter of this year.
West Virginia—Joe Manchin
The political evolution of West Virginia continues unabated, as the Democratic Party's influence fades in a state it once dominated. In 2010, the Democrats controlled every statewide elected executive office, as well as both chambers of the state legislature, two of three U.S. House seats, and both Senate seats. Since then, Republicans have taken control of all except the governorship, state treasurer, and Manchin's Senate seat. However, Senator Manchin continues to be politically deft, and the Democrats managed to win the governor's race in 2016 despite a huge majority for Trump. On the Republican side, several high profile candidates are available including Attorney General Patrick Morrisey and Congressman Evan Jenkins.
Second-Tier Republican Targets
Florida—Bill Nelson
Senator Bill Nelson is very familiar to Florida voters and has enjoyed some strong margins of victory in recent campaigns. In 2012 he won reelection by 13.4 points—far outpacing President Obama's vote share in the state. But a high-profile challenger like Governor Rick Scott could eventually mount a formidable challenge. A recent poll gave Senator Nelson a 15-point lead in a hypothetical matchup with Governor Scott, so for now we consider this seat only marginally vulnerable.
Ohio—Sherrod Brown
Senator Sherrod Brown is rapidly becoming a liberal icon in the Senate, as he has built a strong progressive record during his two terms. In 2012, Brown amassed a 6.2-point margin over State Treasurer Josh Mandel, who is expected to challenge Brown once again in 2018. Ohio will be a strong indicator of the long-term implications of Donald Trump's election. In 2016, Trump's well-received anti-trade message combined with a depressed African American turnout to result in a relatively easy 8.6-point victory in this normally close state. Ohio will also have a high-profile governor's race in 2018 to replace former presidential candidate John Kasich who is term limited, so this will once again be a state to watch.
Virginia—Tim Kaine
Over the last decade, Virginia has shifted from a reliable Republican stronghold to a state that leans slightly Democratic. Population growth in the suburban counties of Northern Virginia and elevated support in and around Richmond gives Democrats hope for this race. But Virginia remains highly competitive—particularly in an off-year election. Should Congresswoman Barbara Comstock decide to challenge Senator Kaine, this would likely be a tight contest.
Wisconsin—Tammy Baldwin
Like Ohio, Wisconsin will be a barometer of the implications of the Trump phenomenon. Wisconsin has been trending away from the Democrats in recent years—Governor Scott Walker won three hotly contested races, and Trump consolidated his victory by carrying the state with fewer than 23,000 votes. As we pointed out in November, Hillary Clinton suffered a huge drop in urban turnout, particularly in Milwaukee County. Low turnout there ultimately delivered the state for Trump. In 2018, Senator Baldwin will be looking to reverse this recent trend by following up on her 5.4-point victory in 2012, which included an advantage in Milwaukee County of more than 157,000 votes. To date, no Republican candidate has formally entered the race to challenge Baldwin, who is serving her first term in the Senate after representing Wisconsin's 2nd Congressional District for seven terms. Potential candidates include Scott Fitzgerald, the State Senate Majority Leader, and Lieutenant Governor Rebecca Kleefisch among others.
Third-Tier Republican Targets
If Donald Trump's political fortunes improve significantly between now and the midterm election, and his victories in the Industrial Midwest follow a continuing trend, then Republicans could have potential pickup opportunities in Michigan, Minnesota, and Pennsylvania—all states that Trump either won or came close to winning in 2016. But barring this type of turnaround for the president, we favor the incumbents to hold these seats.
Democrats face an increasingly difficult path to a Senate majority in 2018. But with the election more than 18 months away, there is plenty of time for Senator McConnell's destructive policies and the bumbling administration to become a Republican liability.