With the eyes of the political world fixed on the state of Virginia and its upcoming gubernatorial election, a familiar scenario will determine the winner. As with all recent statewide elections there, the winner will be determined largely by Democratic victory margins in the key counties of Northern Virginia (Arlington, Fairfax, Loudoun, and Prince William), a trend dating back to the turn of the century. But that's not the only thing to watch: Democratic vote shares have steadily increased in other parts of the state, such as the Richmond suburbs, which could lead to victories in several districts in the Republican-controlled House of Delegates.
A Sign of What's to Come
Recent off-year statewide elections in Virginia have often served as a reliable barometer of national voter sentiment—as goes Virginia, so goes the next national election. In 2005, Democrat Tim Kaine won a close contest for Governor, signaling the beginning of the Democratic wave that characterized the 2006 and 2008 election cycles. Conversely, Republican Bob McDonnell stormed his way to victory in 2009, signaling the coming Republican wave that defined the 2010 cycle. In 2016, Hillary Clinton carried the state, continuing a trend of increasing Democratic support in areas away from the traditional strongholds of Arlington and Fairfax. Many observers this year will be watching for the impact of these developments on state legislative elections. While it is almost impossible to imagine the Democrats gaining control of the Virginia House of Delegates, pick-up opportunities do exist.
Big Implications for Redistricting
In recent years, Virginia was the focus of pivotal redistricting litigation. Assembly Republicans violated the rights of the state's minority voters in order to create strongly Republican districts. Statewide contests remain competitive for Democrats, but Republicans piggybacked on a racial gerrymander to amass lopsided majorities in both the House of Delegates and the congressional delegation—controlling two-thirds of the House of Delegates, and 7 of 11 congressional seats.
In 2016, Democrats scored a congressional pick-up after a Supreme Court decision to throw out portions of the Republican-drawn congressional map. A new, court-drawn plan was much more favorable to the Democrats. In December of last year, the Supreme Court heard arguments pertaining to several Richmond-area state House districts, which also may have been illegally drawn based on race.
Maintaining control of the Governor's mansion has huge implications in the state for the next round of redistricting. Republicans currently control both chambers of the General Assembly and if they win the Governor's office too, they would have exclusive control over the next cycle of redistricting in the state.
With a more bipartisan process and a fairer map, we believe that the Democrats could pick up as many as three additional congressional seats in the future.
Democratic Fortunes Continue to Evolve
Democratic Support Grows in Northern VA
Election observers will agree that in recent years, an increasing population in Northern Virginia's suburban counties (Arlington, Fairfax, Loudoun, and Prince William) changed the dynamics of the state. Over time, it has become much more hospitable to Democratic candidates in statewide contests. In 2017, these four counties account for more than 25 percent of the expected vote. And judging by Hillary Clinton's performance, this region should remain a focal point of Democratic strategy. The table below shows how Democratic margins in these four counties, alone, offset Clinton's deficit across the rest of the state.
These results highlight a decade-long trend, which if it continues could potentially alter the state's voting patterns permanently. In 2016, voters in Northern Virginia overwhelmingly rejected Donald Trump, pushing Hillary Clinton's margin of victory well above President Obama's margin in these key counties. Should this governor's race be a further referendum on President Trump's performance, these numbers will be especially noteworthy.
Northern Virginia Democratic margin in select contests, 2006 – 2016
| County | US Sen '06 | Pres '08 | Gov '09 | Pres '12 | Gov '13 | Pres '16 |
| --- | --- | --- | --- | --- | --- | --- |
| Arlington | 33,821 | 49,118 | 17,624 | 46,795 | 33,368 | 71,830 |
| Fairfax | 64,723 | 109,365 | -4,466 | 108,500 | 67,795 | 197,423 |
| Loudoun | 1,132 | 11,509 | -14,566 | 7,187 | 3,905 | 30,846 |
| Prince William | 2,094 | 25,814 | -13,146 | 28,873 | 8,010 | 41,423 |
| NOVA Total | 101,770 | 195,806 | -14,554 | 191,355 | 113,078 | 341,522 |
| Statewide Total | 9,329 | 234,527 | -344,701 | 149,298 | 56,435 | 212,030 |
Democratic Prospects Outside Northern Virginia Steadily Improve
While Northern Virginia is worthy of attention, other areas are also trending more Democratic, including suburban Richmond in Henrico County, as well as southern cities like Chesapeake and Chesterfield. These developments could have a big impact on the gubernatorial and state legislative contests this year.
Chesapeake City
Part of the Norfolk-Portsmouth-Newport News media market, Chesapeake City stands out as an area where Democratic prospects are improving. In 2016 Hillary Clinton nearly carried Chesapeake, losing to Donald Trump by less than 2,000 votes. Clinton's performance solidifies the evolution of the voters in this area. Statewide Democratic candidates have received at least 49 percent of the vote here in every contest since the US Senate race in 2006.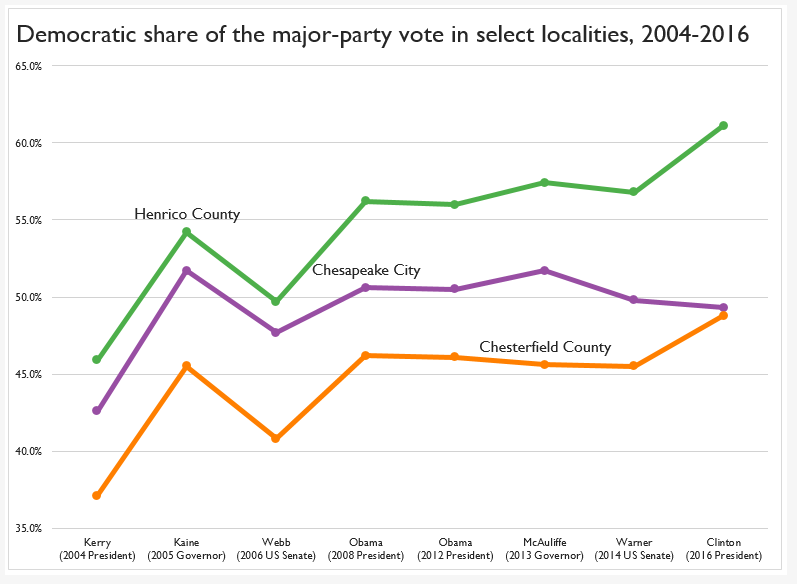 Richmond Suburbs
Like Northern Virginia, suburban Richmond has become increasingly friendly to Democratic candidates. Henrico County is an extreme example of how vast this change has been—in 2004, John Kerry received less than 46 percent of the vote there, while Hillary Clinton's vote share exceeded 61 percent in 2016. Likewise, Chesterfield County has shifted from a Republican stronghold to a highly competitive locality. In 2016, Hillary Clinton outperformed Barack Obama's 2008 vote share by 2.6 points, nearly carrying the county.
Key Districts to Watch in the House of Delegates
At the statewide level, partisan support across Virginia appears almost unrecognizable when compared to results in 2004. Unfortunately for Democrats, these results have yet to trickle down to the House of Delegates, where the Republicans have built an insurmountable advantage with unfair district lines. However, we believe that—should these trends hold true in November (particularly outside Northern Virginia)—Democrats could flip more than 10 Republican districts. To this end, the NCEC has worked to support several of progressive candidates in key districts as part of our new Project Down-ballot effort.
District
Republican
Democrat
Outlook
Key Locality
HD-002
Makee
Foy
Likely Dem
Prince William
HD-042*
Smoak
Tran
Likely Dem
Fairfax
HD-013*
Marshall
Roem
Toss up
Prince William
HD-031*
Lingamfelter
Guzman
Toss up
Prince William
HD-032*
Greason
Reid
Toss up
Loudoun
HD-050*
Miller
Carter
Toss up
Prince William
HD-067
LeMunyon
Delaney
Toss up
Fairfax
HD-072
Whitlock
VanValkenburg
Toss up
Henrico
HD-010*
Minchew
Gooditis
Marginal
Loudoun
HD-012*
Yost
Hurst
Marginal
Montgomery
HD-021
Vilanueva
Fowler
Marginal
Virginia Beach
HD-040
Hugo
Tanner
Marginal
Fairfax
HD-051
Anderson
Ayala
Marginal
Prince William
HD-068
Loupassi
Adams
Marginal
Richmond/Henrico
HD-073*
O'Bannon
Rodman
Marginal
Henrico
HD-085
Holcomb
Turpin
Marginal
Virginia Beach
HD-100*
Bloxom
Randall
Marginal
Accomack, Norfolk City
*Supported by the NCEC's Project Down-ballot