It's understandable if many Democrats look at the election in 2018 with a degree of foreboding. In the last two midterm elections, they lost a combined total of 76 House seats and 15 Senate seats. But the emerging scandals in the Trump White House and a simple look at history should give them a reason to be optimistic. As Barack Obama witnessed in 2010, the first midterm election commonly brings early losses to a new president's party. If President Trump's early missteps are an indicator of things to come, the Republican Party could be extremely vulnerable when voters go to the polls in 2018.
Any predictions regarding the next election outcome would be premature at this time, but it is prudent to explore the opportunities and scenarios that we foresee. Since 1954, the president's party has lost an average of 23.7 House seats in the administration's first midterm election. In 2018, the Democrats need a net 24-seat gain to regain control of the House. The key to accomplishing this will be to pursue an all-of-the-above targeting strategy to ensure that opportunities are not missed.
A Quick Note on 2016
Leading up to the election, we joined many in assuming that the higher presidential-year turnout and diversity of the electorate would put a Democrat in the White House and more Democrats in Congress. However, overall voter turnout dropped by 2.8 points relative to 2012, particularly in urban areas. African American turnout slipped significantly relative to the last two presidential elections, which was not entirely unexpected. What did surprise us was exit polls showing that Donald Trump carried a majority of white women (52 percent) and outpaced Mitt Romney among Hispanic voters (28 percent). Of course, none of these statistics are new, but they demonstrate that—in a low-turnout election—the Obama coalition of young voters, women, and minorities doesn't assure a victory. The NCEC released a number of articles in the summer of 2016 detailing exactly how this could happen, especially in Ohio. But like everyone else, we were surprised by Trump's victory.
Suburban backlash to the Trump message never materialized, as many thought it would, and rural communities continued their steady shift away from the Democratic Party. But if Republicans enter the 2018 election saddled with an unpopular president, the typical off-year motivation gap may become their problem. In 2006, when the Democrats retook both chambers of Congress, voter turnout was powered by discontent with the war in Iraq and several corruption scandals engulfing Republican members of Congress.
Lower Turnout and Less Diverse Electorate Expected in 2018
If the normal trend continues, national turnout in 2018 will be considerably lower than in 2016. Given recent midterm elections, it's reasonable to expect that overall turnout will not exceed 40 percent. Additionally, we should expect the electorate will be older and whiter than it was in 2016, which will influence the selection of districts where Democrats can compete effectively.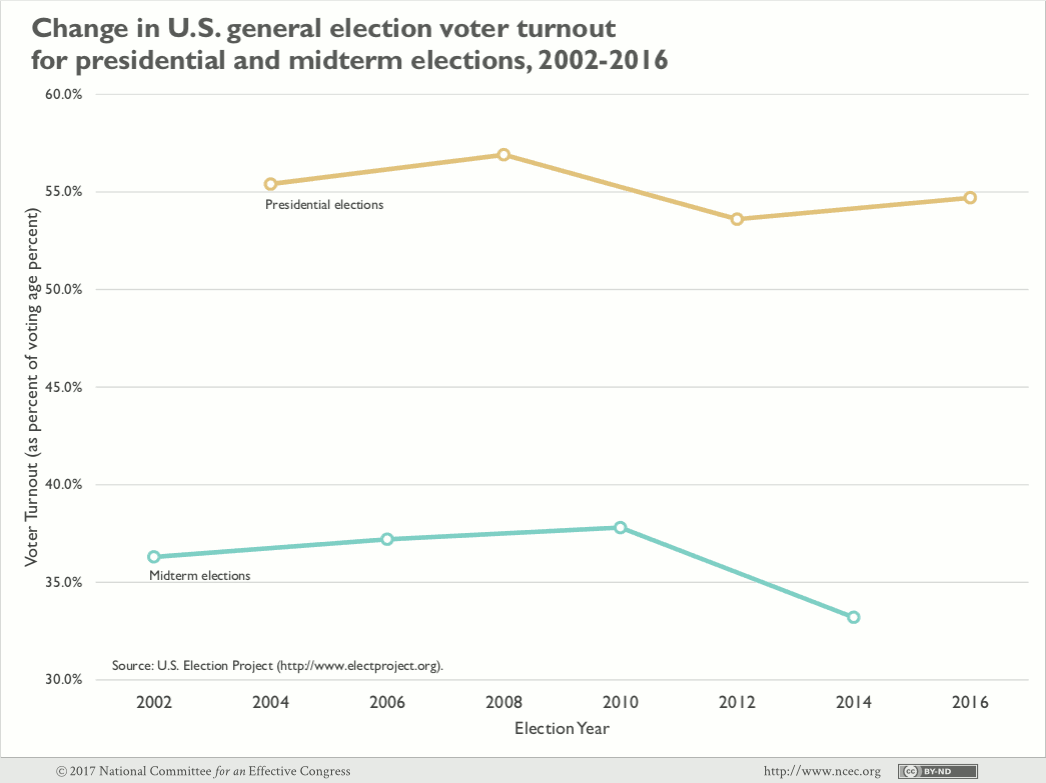 History also suggests that the electorate will be in the mood for change. As mentioned above, since 1954, the President's party has lost an average of 23.7 seats in the first midterm election of a new administration.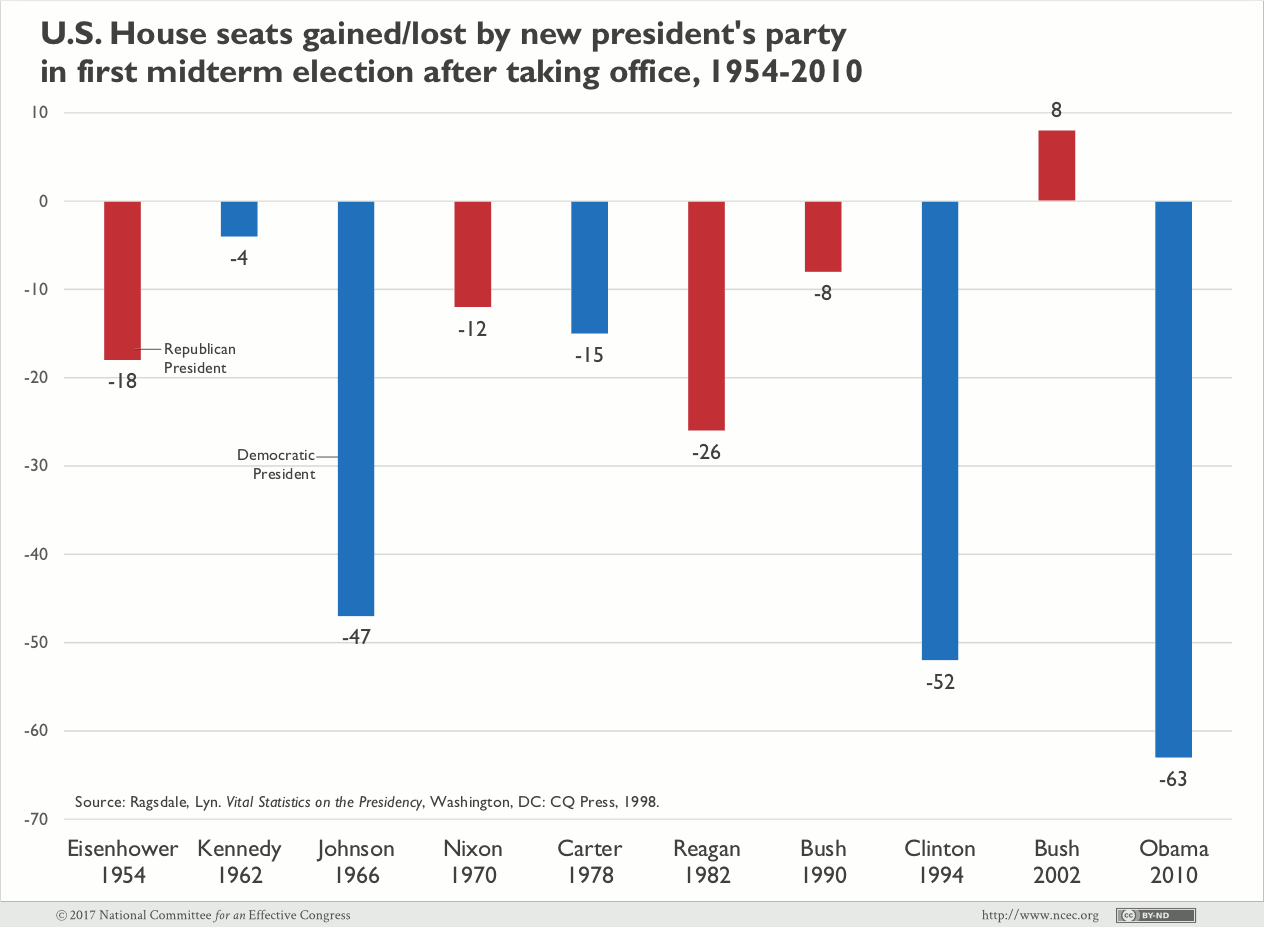 Where are the Democratic Pickups?
Looking to 2018, expect Democrats to favor many of the 2016 targets once again. Although results from last cycle were disappointing, the fundamental indicators of district marginality proved sound. Moreover, there are several areas where demographic and economic characteristics have placed new congressional districts on our radar.
Diversifying Highly Educated Districts Targeted in 2016
As previously noted, the suburban backlash against Donald Trump failed to materialize to the degree that many expected. However, many suburban districts remain top-tier targets for the Democrats going forward. This cohort of voters is often highly educated, and in a political environment that favors Democrats, they could turn out in higher numbers than we saw in 2016.
| District | Rep Incumbent | Clinton 2016 Percent | Dem US House 2016 Percent | Description |
| --- | --- | --- | --- | --- |
| AZ-02 | McSally | 52.6% | 43% | Suburban Phoenix District, more than 20% Latino |
| CO-06 | Coffman | 53.7% | 45.5% | Growing suburban Denver district with 40%-plus higher education level. But is Coffman vulnerable? |
| IL-06 | Roskam | 53.7% | 40.7% | 50% higher education level, need a strong candidate |
| KS-03 | Yoder | 50.6% | 44.1% | Lawrence based district, 45% with bachelor's or advanced degrees |
| MI-11 | Trott | 47.7% | 43.1% | 45.4% of the population 25 and older have a college degree or higher. |
| PA-06 | Costello | 50.3% | 42.7% | Education levels considerably higher than national average. Governor Wolfe carried this district in 2014. |
| PA-07 | Meehan | 51.2% | 40.5% | Textbook Republican gerrymander. Could be competitive, especially if Meehan were to retire. |
| PA-08 | Fitzpatrick | 49.9% | 45.6% | High education and income Philadelphia suburb. Governor Wolfe carried this district in 2014. |
| VA-02 | Taylor | 48.2% | 38.5% | Virginia Beach based district that is trending Democratic. |
| VA-10 | Comstock | 55.3% | 47.1% | Wealthy Northern Virginia district where an estimated 53.8% of the population 25 and older have a college degree or higher. |
| WA-08 | Reichert | 51.6% | 39.8% | Affluent suburban Seattle district |
California—Will Voters Turn out?
California is likely to be competitive in 2018, despite Hillary Clinton's lopsided victory there in 2016. The composition of the electorate shifts markedly in the state between presidential and midterm elections. Further, California's districts have featured close results in recent midterm elections.
Historically, low midterm turnout in California poses a challenge to Democrats. For example, there are five districts (California's 7th, 16th, 26th, 31st, and 52nd) where Democratic incumbents easily won re-election in 2016 but nearly lost their seats two years earlier. In each of these five districts, the Democrat finished with less than 52 percent of the major-party vote in 2014. One can reasonably expect that all of these districts will again be competitive in the next midterm election.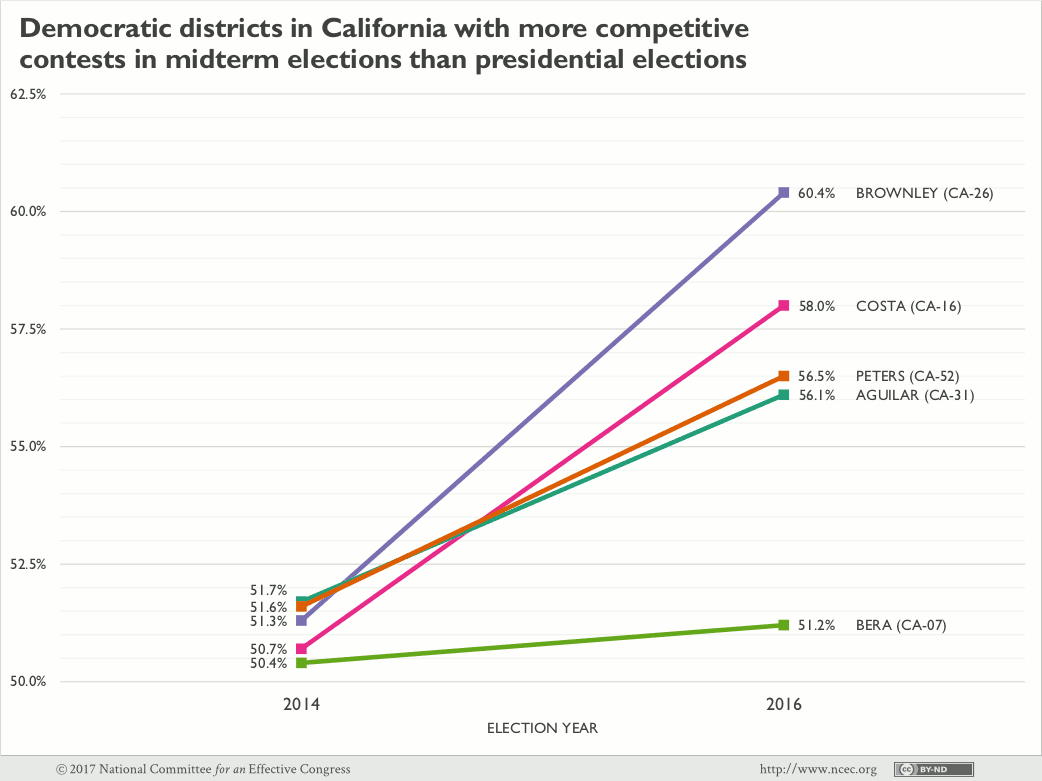 Where are the Democratic targets then? Hillary Clinton carried seven California districts where Republicans were re-elected to the House—the 10th, 21st, 25th, 39th, 45th, 48th, and 49th. Each qualifies as a viable target—especially districts 10, 25, and 49, where the Republican incumbent won by a narrow margin. Unfortunately for Democrats, Republican incumbents in districts 21, 39, 41, and 48 reclaimed their seats by more than 10 percent, calling into question how vulnerable these members really are.
These marginal Republican districts all contain rapidly growing Asian and Hispanic communities. In recent midterm elections, Democrats have faced tepid interest in similar areas, so maximizing turnout here is essential. Still, it's conceivable that Democrats may pick up at least three California districts in 2018.
Classification
District
Clinton 2016 Pct
Dem US House 2016 Pct
Asian CVAP*
Hispanic CVAP*
Tier-1 CA targets
CA-10
51.6%
48.3%
6.7%
29.9%
CA-25
53.6%
46.9%
7.5%
28.2%
CA-49
54.0%
49.7%
6.4%
17.6%
Tier-2 CA targets
CA-21
58.2%
43.3%
3.9%
56.9%
CA-39
54.6%
42.8%
28.1%
26.8%
CA-45
52.9%
41.4%
19.8%
14.2%
CA-48
50.9%
41.7%
18.0%
13.1%
* Based on 2015 American Community Survey 5 year estimates
Texas—Education Attainment Might Put Some Districts in Play
In Texas, a Republican gerrymander has engineered a 25-11 Republican congressional majority, but two districts won by Hillary Clinton—Texas' 7th and 32nd—are trending Democratic. She fared considerably better than other Democrats on the ballot there, so recruitment will be extremely important. A higher education level—exceeding 40 percent in both districts—makes them attractive targets, as college educated voters supported Democrats overwhelmingly in the last election. Additionally, the 7th District contains a sizable minority population, accounting for more than 40 percent of the citizen voting age population (CVAP). Another target is Texas' 23rd, a marginal, heavily Latino district (more than 60 percent of the CVAP) which has elected a Democrat in the past. Depending on the political environment, Democrats could expect to win one or more of these targets in 2018.
| District | Clinton 2016 Pct | Dem US House 2016 Pct | Non-white CVAP* |
| --- | --- | --- | --- |
| TX-07 | 50.7% | 43.8% | 42.3% |
| TX-23 | 51.8% | 49.3% | 67.8% |
| TX-32 | 51.0% | Unopposed | 35.4% |
* Based on 2015 American Community Survey 5 year estimates
New York—Are the Rural Districts Gone for Good?
New York was another state where Democratic fortunes disappointed in 2016. Donald Trump was popular in Long Island and rural areas of the state, but it is uncertain if this will hold. Long Island offers two potential targets: New York's 1st District (represented by Lee Zeldin) and New York's 2nd District (represented by Peter King). A basic reading of statistics might suggest that King is vulnerable but he remains a popular member. Moreover, the level of higher education in New York's 2nd does not exceed the national average to any significant degree.
| District | Region | Clinton 2016 Pct | Dem US House 2016 Pct |
| --- | --- | --- | --- |
| NY-01 | Long Island | 43.6% | 41.1% |
| NY-02 | Long Island | 45.4% | 37.5% |
| NY-11 | Staten Island | 45.0% | 37.4% |
| NY-19 | Upstate/rural | 46.2% | 45.7% |
| NY-24 | Syracuse | 51.9% | 39.4% |
Republican Lee Zeldin (NY-01) consolidated control of his seat in 2016, winning nearly 59 percent of the major party vote. This is impressive considering the fact that he unseated a Democratic incumbent in 2014.
Theoretically, demographics suggest that two additional districts—New York's 11th and 24th—are potentially marginal. The 11th District (Staten Island) houses a population that is similar in diversity and educational attainment to that in Democratic-leaning areas elsewhere. An obstacle here though is low turnout, especially in midterm elections. Likewise, the 24th District (Syracuse area) also has many characteristics of a competitive district. However, the atypically popular Republican incumbent, John Katko, easily won re-election in two successive contests, defeating both an incumbent and a credible challenger, respectively.
The race that garnered the most Democratic attention in 2016 was the contest in New York's 19th, where freshman John Faso defeated well-known challenger Zephyr Teachout by 10 points. The 19th exemplifies a district where observers have expressed skepticism for the future, given its rural makeup and modest education level. The NCEC still considers this to be a potentially marginal district, and it is definitely worth consideration as the 2018 election cycle progresses.
Florida—Reason for Optimism in the Sunshine State
Florida is a state that harbors legitimate optimism for the Democrats. Largely Hispanic districts in the southern part of the state are evolving into potential Democratic seats. Republican incumbents Carlos Curbelo (FL-26) and Ileana Ros-Lehtinen (FL-27) are increasingly vulnerable to Democratic challengers.
| District | Clinton 2016 Pct | Dem US House 2016 Pct | Hispanic CVAP* |
| --- | --- | --- | --- |
| FL-18 | 45.3% | 44.6% | 9.7% |
| FL-26 | 58.3% | 43.7% | 62.5% |
| FL-27 | 60.1% | 45.1% | 63.4% |
* Based on 2015 American Community Survey 5 year estimates
Additionally, freshman Republican Brian Mast in Florida's 18th District is a potential target. The results of the 2016 statewide contests in this district reveal a complicated and highly vexing path for a Democratic victory, though.
Georgia—Growing Suburbs Put Districts in Play
In recent years, Democratic prospects have improved in Georgia. We will see an early preview of this idea in the upcoming special election to replace Secretary of Health and Human Services Tom Price in Georgia's 6th District. The 6th District contains one of the most highly educated constituencies in the country, and should be the prototype of a district that might now be a target. Similarly, Georgia's 7th District (another suburban Atlanta district) might garner a serious challenge.
| District | Clinton 2016 Pct | Dem US House 2016 Pct | Higher Education Pct |
| --- | --- | --- | --- |
| GA-06 | 49.2% | 38.3% | 58.0% |
| GA-07 | 46.7% | 39.6% | 38.7% |
New Jersey—A roadmap for the future?
Democrat Josh Gottheimer's victory in New Jersey's 5th District could be indicative of future opportunities for the party. The highly educated Bergen County area catapulted Gottheimer to victory. It should be noted however that 2018 turnout will likely be comprised of more rural voters from Hunterdon and Warren counties. Heavier influence from these voters could put this seat in jeopardy. Former Congressman Scott Garrett was also a flawed candidate, and the Republicans are likely to nominate a more credible option in 2018.
New Jersey's 7th and 11th districts also match the 5th's level of educational attainment, and despite the popularity of incumbents Lance and Frelinghuysen, both districts are worth further investigation. The Democrats should also not overlook New Jersey's 2nd or 3rd districts, which are more rural and could be competitive under the right circumstances. Should the Republican incumbent in New Jersey's 2nd District retire (a possibility), this would be a competitive race. Further, it's important to remember that former Democratic Congressman Jon Adler won in New Jersey's 3rd District, in the Democratic wave that defined the 2006 election.
There is no question that winning the House of Representatives is a difficult task, especially in a midterm election. But we feel that it's important that the Democrats not over react to the results of 2016 by unduly shrinking their playing field, and continue to pursue an all-of-the-above strategy when considering competitive districts.