The Democratic effort to retake the U.S. Senate in 2016 will be strongly affected by the presidential election. If Hillary Clinton's impressive lead in the polls is any indication of her party's potential, Democrats will be well-positioned to win the handful of seats needed to regain control.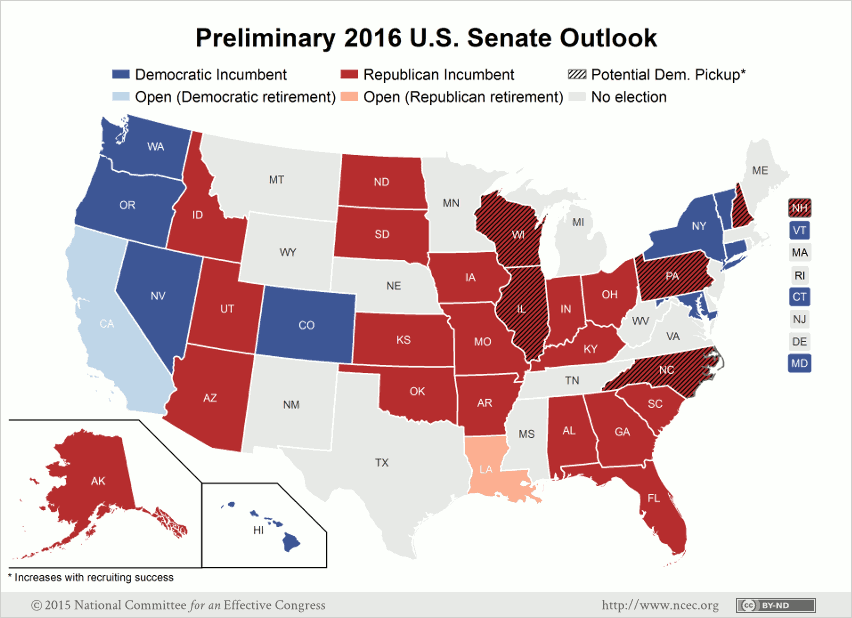 With a net gain of five seats, Democrats would achieve a 51-49 majority in the U.S. Senate. They could also win control with a net gain of four seats plus a Democratic vice president breaking deadlocks in their favor.
Early in the 2014 cycle, Republicans were already favored to win the six seats they needed to take over the U.S. Senate. They quickly locked up races in Montana, South Dakota, and West Virginia. Adding to the challenges faced by Democrats, Republicans also had early opportunities in Alaska, Arkansas, Louisiana and several other states. The resulting election saw Republicans winning nine seats (the six needed for control plus three more) thereby compounding the challenge facing Democrats in 2016.
Though still early in the 2016 cycle, we do know that retaining seats in Nevada and Colorado, and picking up seats in Illinois, Pennsylvania, and Wisconsin is imperative.
In the upcoming election, Republicans must defend 24 seats but Democrats only have to defend 10—a reversal of the vulnerable seat distribution that defined the 2014 election. Moreover, presidential years expand the influence of non-white voters, who are more inclined to vote for Democratic candidates. The enhanced share of African-American, Latino, and Asian-American voters is certain to influence potential battlegrounds Colorado, Florida, Illinois, Nevada, North Carolina, Ohio, and Pennsylvania.
Current Situation
At this time, only two Democratic seats appear to be in jeopardy. In Colorado, Democratic Senator Michael Bennet was elected by the slimmest of margins in 2010 and he faces strong potential opponents in both Attorney General Cynthia Coffman and Rep. Mike Coffman. The second major vulnerability appears to be Nevada, where Democratic incumbent Harry Reid could face a worrisome reelection fight should Governor Brian Sandoval decide to run.
If both Bennet and Reid survive, Democrats would need to win an additional four seats to achieve the 50-50 (plus Democratic vice president) scenario. While there are five Republican seats presumed to be in jeopardy, not one can be counted an easy pickup.
Democratic Opportunities
Evaluating Democratic pickup prospects is difficult this early in the cycle and is highly dependent upon candidate recruitment. Competitive contests seem likely in Illinois, New Hampshire, North Carolina, Pennsylvania, and Wisconsin. Of all the Republican seats up for election, these five appear to be the most likely to revert back to Democrats in 2016.
Illinois: The best chance for a Democratic pickup is Illinois. While a dream candidate (like Attorney General Lisa Madigan) seems unlikely to run, a bevy of Democratic congressional candidates appear interested in the race. Cheri Bustos, Tammy Duckworth, Bill Foster and others are considering the challenge. Republican incumbent Mark Kirk seems to have recovered from a serious illness but remains politically vulnerable to the Illinois electorate's inherent Democratic advantage (no Republican presidential candidate has carried Illinois since 1988).
Pennsylvania: The second-best prospect for a pickup may be Pennsylvania. Early polls show that Republican incumbent Pat Toomey is far below the 50 percent threshold for success. Democrat Joe Sestak, who narrowly lost to Toomey amidst the 2010 Republican wave, appears the most interested in challenging the sitting senator.
Wisconsin: Almost as vulnerable as Toomey is Wisconsin freshman Republican Ron Johnson. A doctrinaire conservative also elected in the 2010 wave, Johnson may face a rematch with former Senator Russ Feingold. Representatives Ron Kind and Gwen Moore are also potential Democratic candidates.
The next tier of potentially vulnerable Republican incumbents depends strongly on the caliber of the candidates Democrats are able to recruit.
New Hampshire: Will popular Democratic Governor Maggie Hassan challenge Republican freshman Kelly Ayotte? In recent years, the Granite State has oscillated between Republican gains in the mid-term and Democratic gains in presidential cycles.
North Carolina: Will former U.S. Senator Kay Hagan, who lost by 1 point to freshman Thom Tillis, decide to challenge Republican Richard Burr in North Carolina? If not Hagan, there appear to be other capable candidates, but none with the potential of the former incumbent.
Additional Uncertainties
Additional uncertainties in the 2016 landscape may open up more opportunities.
Ohio: Republican incumbent Rob Portman appears to be an early favorite. However, Ohio is a swing state, likely to be a prime target for the presidential race, and could see massive African-American turnout similar to that of 2012.
Arizona: The far right is once again going after John McCain. A successful primary challenge could easily backfire for the Republicans in the general election.
Florida: Marco Rubio may run for president. Irrespective of his decision, several popular Democratic members of congress are looking at this race, including Alan Grayson, Patrick Murphy, and Debbie Wasserman Schultz.
Iowa: Iowa is a long shot if Chuck Grassley, long-time Republican senator, seeks reelection. But the state is highly competitive in an open-seat race, and is another close presidential battleground.
Alaska: Republican Lisa Murkowski was reelected as a write in candidate six years ago and may face a tough primary challenge from the right, leading to an unpredictable general election. Would former Democratic Senator Mark Begich enter this race in such a scenario?
While Democrats have some promising opportunities, partisan control of the U.S. Senate is uncertain. Republicans are defending far more seats than Democrats and tend to have a harder time winning in presidential year elections. Two key factors will make the difference in 2016: outcome of the presidential election and Democratic recruiting success over the next several months.