While the public's attention remains fixated on the presidential primary, the congressional race continues to clarify. More than a year ago, the NCEC projected that Democratic gains in the U.S. House are likely to exceed 20 seats (see Feb. 6, 2015). Our projection remains that the House Democrats can expect a solid 12 – 15 seat gain and the potential for a 20-seat or more Democratic gain remains plausible. Republican retirements, along with the elevated turnout of a presidential election, are both factors that favor the Democrats as the election approaches.
Additionally, recent redistricting decisions have set the stage for three to four Democratic pick-ups in November: a net gain of up to three seats in Florida (10th, 13th, and 26th Districts) and an additional seat in Virginia (4th District) are easily conceivable. Three of these districts strongly favor the Democratic candidate; only Florida's 26th District is likely to be competitive in November.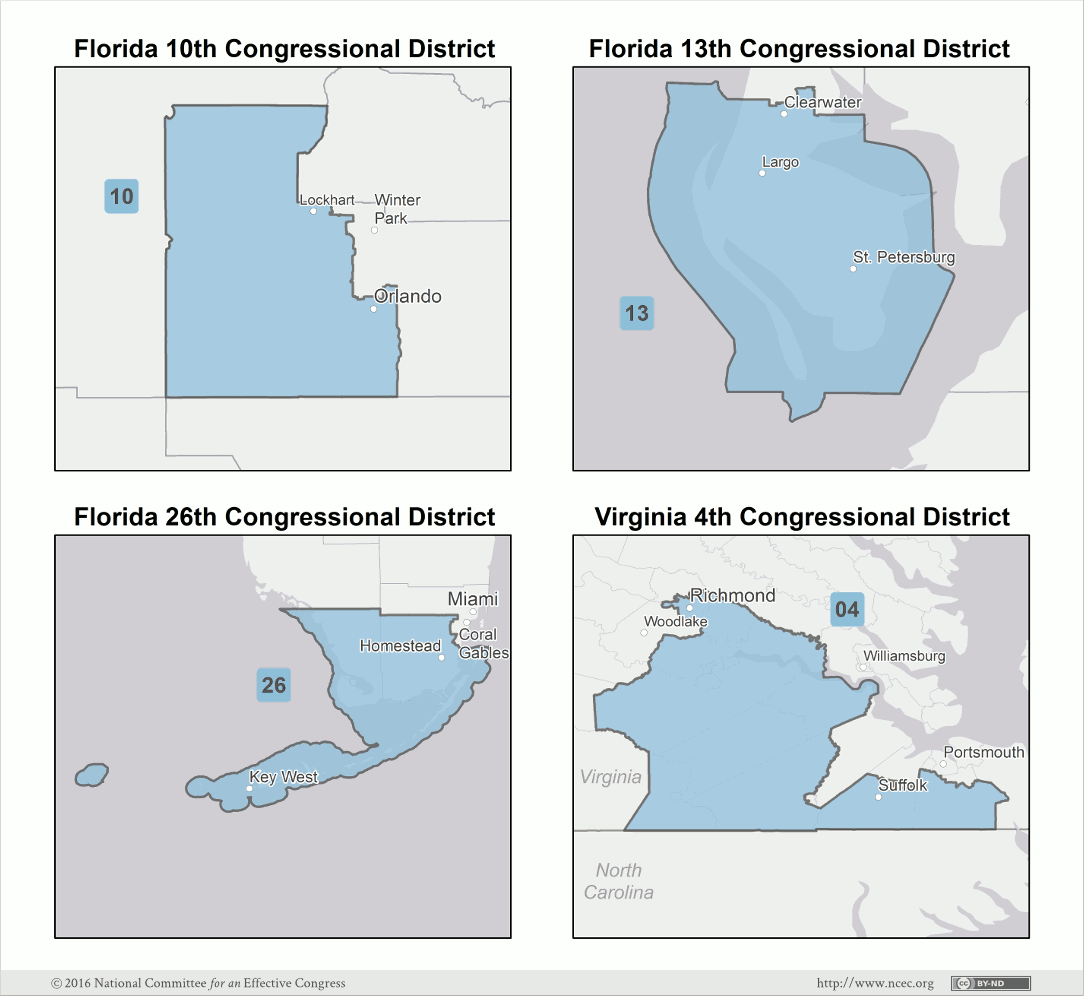 Open seats remain the most likely to change hands in any election, and recent Republican retirements in three toss-up districts (Pennsylvania's 8th, Minnesota's 2nd, and Nevada's 3rd) present strong opportunities for Democratic gains. However, it is worth noting that there are three Democratic open seats that are also in jeopardy.
Democratic Open Seats

AZ01

Kirkpatrick

CA20

Farr

CA24

Capps

CA44

Hahn

CA46

Sanchez

DE01

Carney

FL09

Grayson

FL18

Murphy

IL08

Duckworth

MD04

Edwards

MD08

Van Hollen

NY03

Israel

NY13

Rangel

TX15

Hinojosa

WA07

McDermott
Republican Open Seats

FL06

Desantis

FL10

Webster

FL11

Nugent

FL13

Jolly

IA03

Young

IN03

Stutzman

IN09

Young

KY01

Whitfield

LA03

Boustany

MI01

Benishek

MI10

Miller

MN02

Kline

NV03

Heck

NY19

Gibson

NY22

Hanna

OH08

Boehner

PA08

Fitzpatrick

PA16

Pitts

TX19

Neugebauer

VA02

Rigell

VA04

Forbes

VA05

Hurt

WY01

Lummis
Beyond open seats, 17 Republican incumbents face reelection fights in districts with a Democratic Performance Index above 50 percent—14 of the 17 have credible opponents. By contrast, only five Democrats face reelection campaigns in districts with Republican majorities. Despite the almost certain loss in the 2nd District of Florida, Democrats hold a clear advantage in this group.
Democrats in




Majority Republican Seats

FL02

Graham

FL18

Murphy

MN01

Walz

MN07

Peterson

NE02

Ashford
Republicans in




Majority Democratic Seats

AZ02

McSally

CA21

Valadao

CO06

Coffman

FL07

Mica

FL10

Webster

FL13

Jolly

FL26

Curbelo

FL27

Ros-Lehtinen

IA01

Blum

IA03

Young

IL10

Dold

ME02

Poliquin

NH01

Guinta

NJ02

Lobiondo

NJ03

MacArthur

NV04

Hardy

NY02

King

NY19

Gibson

NY24

Katko

PA08

Fitzpatrick

TX23

Hurd

VA04

Forbes

WV01

McKinley

WV03

Jenkins
Even without the fortuitous district dynamics, the composition of the electorate in a presidential election year inherently favors Democrats. Election results in recent years have borne this out: Democrats gained a net of 10 US Senate seats and 32 House seats in the last two presidential elections, while Republicans gained 15 US Senate seats and an astonishing 77 House seats in the last two midterm elections.

Should he win the Republican nomination, Donald Trump may elicit far more Republican base support than Mitt Romney, but the suburban landscape of the vulnerable Republican House seats still looks favorable for Democratic House candidates regardless of Trump's presence on the ticket. A Trump candidacy could bolster Republican fortunes in certain districts, while benefiting the Democrats in others. For example, Trump could benefit Republicans in marginal districts such as Illinois' 12th District or West Virginia's 2nd District. Conversely, his presence on the ticket could help Democrats in majority-Latino districts, such as California's 10th and 12th Districts.
Overall, 207 House districts favor Democrats in presidential years. That alone implies a gain approaching 20 seats in 2016. Though the underlying fundamentals still point toward double-digit gains, the volatility of the 2016 election leaves us less bullish on an outright majority.