National polls continue to show Hillary Clinton with an advantage in the Democratic presidential primary. Recent national polls give her a roughly 10-point lead and most state polls show her having some advantage. As we move into Tuesday's contests, the open versus closed nature of each primary could clarify the task her campaign faces as it looks to pivot toward the general election.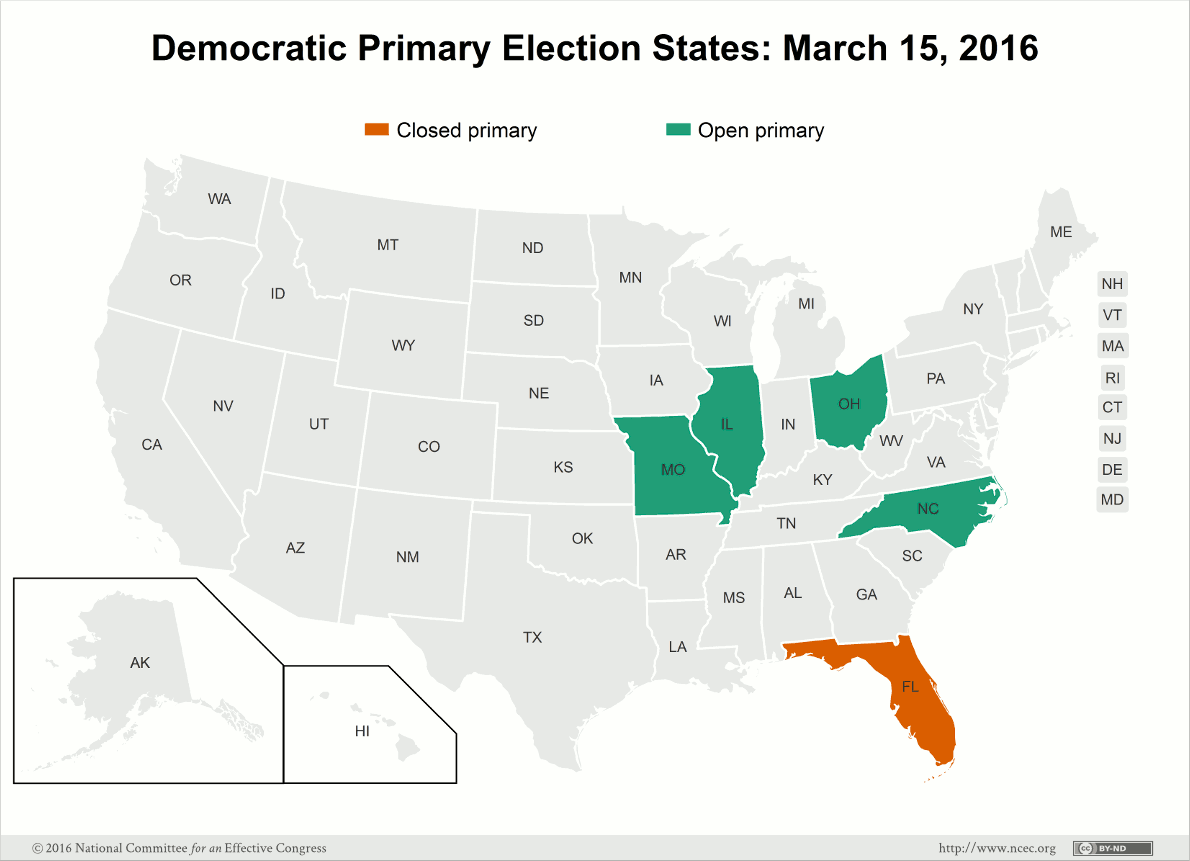 In Michigan, where Sanders defied the polling, he carried independents who voted in the open contest by a wide margin (71 percent to 28 percent), while Hillary Clinton outperformed Sanders among registered Democrats (58 percent to 40 percent). Those differentials produced a photo finish.
Public Policy Polling's latest poll (March 14) reflects this split in the next tranche of states, as Sanders leads by significant margins among independents: Illinois (69 percent to 18 percent), Missouri (62 percent to 23 percent), Ohio (53 percent to 20 percent).
With March 15 upon us, here is how the contests stack up:
| State | Open/Closed Primary | Delegates |
| --- | --- | --- |
| Florida | Closed Primary | 214 |
| Illinois | Open Primary | 156 |
| Missouri | Open Primary | 71 |
| North Carolina | Open Primary | 107 |
| Ohio | Open Primary | 143 |
In Florida (a closed primary state), the polls show Clinton with a substantial lead. The Real Clear Politics (RCP) average gives Hillary a 28.6-point spread, but this average can be misleading as the high and low polls vary by 24 percentage points. Overall, it is unlikely that Sanders will manage to make this a close race but will, instead, focus on a delegate-maximization strategy in the state.
North Carolina (an open-primary state), should be a slightly more competitive race, but it remains unlikely that Sanders can win here. The RCP average gives Hillary a 24.0-point spread. The bottom line is that if Sanders makes North Carolina close, it is a major story.
As others have pointed out, Illinois and Ohio are bellwethers for Sanders. They are open primaries and his momentum coming off of Michigan could resonate across the Midwest. Ohio is slightly less diverse than Michigan, which favors Sanders, and represents his best chance for a win on March 15. Recent polls show Sanders within striking distance, with the margin in the single digits.
Illinois represents a steeper climb than in Ohio, but a win is not out of the question. Should Sanders win Illinois and Ohio, he goes forward strongly, but remains a decided underdog. A win in both primaries might give pause to some super delegates currently backing Hillary Clinton.
Missouri is basically a wild card because there is very little polling in the state. The most recent polling from Public Policy Polling showed the race virtually tied (47 percent to 46 percent).
With 691 delegates in play on March 15, both candidates will seek every advantage in the upcoming contests. A close finish for Bernie Sanders in the three Midwest states will build on the momentum he gained in Michigan. However, if Hillary Clinton achieves the wide margins indicated in Florida and North Carolina, her delegate lead will still grow in spite of the opposition.