Democrat Danny O'Connor sustained a heartbreaking defeat Tuesday night in the special election for Ohio's 12th Congressional District.
The morning after the election, O'Connor's deficit was 1,754 votes out of 202,521 ballots cast. There are provisional and other ballots to be counted, but it appears that the Republican victory will hold. A rematch will take place in the fall between O'Connor, and the apparent GOP winner, Troy Balderson.
As mentioned in our two prior articles, no Democrat for statewide or congressional office, has won a majority in the current 12th District since 2006. O'Connor won 49.6 percent of the major party vote—5.6 points above Hillary Clinton's performance in 2016. Accordingly, the trend of Democratic congressional candidates in special elections far exceeding the 2016 Clinton percentage remains intact.
A closer margin within the district is encouraging, but also hints at a missed opportunity.
In Franklin County (Columbus), where 35.2 percent of the vote was cast, it is unfathomable that a large urban county would have greater turnout impact in a special election than in a presidential year.  Combined with neighboring Delaware County, 64.3 percent of the vote was delivered in these two counties alone—nearly 5 points higher than their 2016 presidential vote share. The NCEC set a winning percentage at 65 percent for Franklin and O'Connor marginally surpassed that with 65.3 percent of the major party vote.  In Delaware, despite O'Connor's historically impressive 45.8 percent, the 4,876 vote deficit there ultimately cost him the election. As we noted yesterday, he needed between 47 and 47.5 percent there in order to carry the district.
What this Means in the Fall for Suburban Districts
Urban-suburban enclaves like Franklin, encompassing the city of Columbus, will deliver dramatically improved results for Democrats. If this reflects a broader trend for suburban areas across the country, we could see victories in districts like Pennsylvania's 5th and 6th (Philadelphia suburbs), New Jersey's 7th and 11th (New York City suburbs), and in California's 25th (Los Angeles suburbs).
The Delaware County results in Ohio's 12th show that the overwhelmingly white suburban-exurban areas are moving in a Democratic direction. It is not clear if this shift will happen in time to win the House in 2018.
This trend is especially true in districts that are a mixture of suburban, exurban, and rural segments. Consider what happened last night where O'Connor generated a margin of almost 17,000 votes in Franklin and Delaware. In the remaining 36 percent of the district, a deficit exceeding 18,000 offset those urban and suburban gains. Had O'Connor lost Delaware by slightly less than 3,000 votes he would have won the election.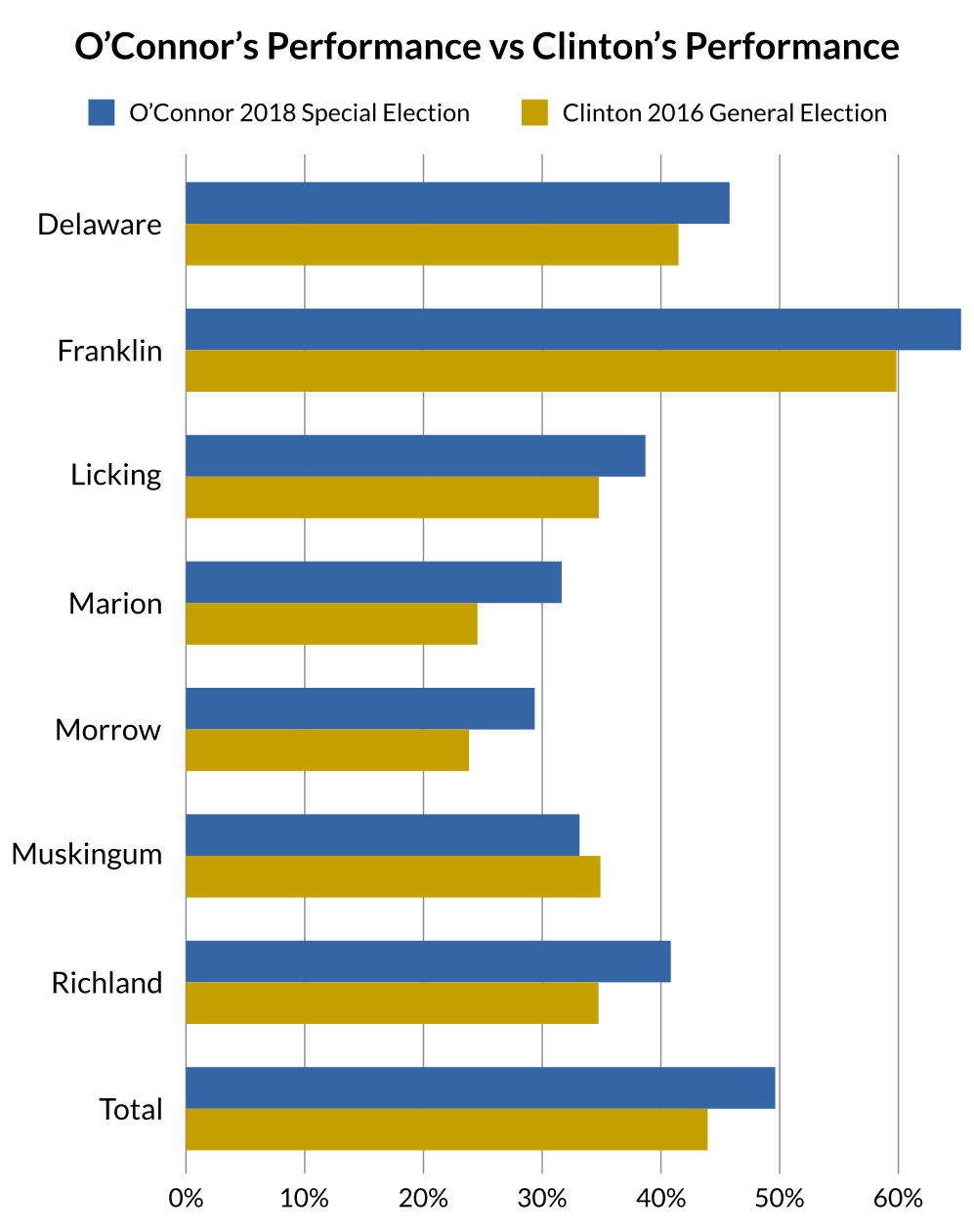 We went into last night thinking O'Connor needed 40 percent of the major party vote in rural and blue-collar Licking County but O'Connor only achieved 38.7 percent of vote. The good news for O'Connor was the vote share in Licking declined from 21 percent in 2016 to 19 percent in 2018. Perhaps the Trump intensity will be exceeded by anti-Trump intensity in November.  Moreover, O'Connor exceeded the Clinton percentage by 4 points in Licking County—O'Connor needed to run 6 points above the Clinton percentage in order to win district wide.
The only county in the district where O'Connor performed worse than Clinton was Muskingum (Zanesville). Keeping in mind that this is Balderson's home area, a deficit of almost 4,000 was devastating, and perhaps more attention should have been focused on at least emulating recent Democratic performances there. Balderson doesn't mirror Donald Trump's hold on certain alienated white voters, so perhaps this result could have been mitigated. O'Connor also lost by 2,300 votes in Richland County—another rural area—although he won 40.9 percent of the vote (outperforming Clinton by 6.1 points).
In summary, O'Connor's performance in Franklin County exceeded expectations and there were positive results in some of the blue-collar and rural areas.   It was the Delaware County result that doomed this election bid and given the evidence that the share of Delaware turnout—29.1 percent last night, compared to 26.4 percent in 2016—reveals that the Republicans buttressed their turnout in a few non-rural areas in the district. In the heartland, white suburban counties are evolving, but is this happening fast enough to affect the coming elections?