The argument that Hillary Clinton is the strongest general election candidate is seriously complicated by the latest Quinnipiac national poll, taken after the New Hampshire primary, between Feb. 10 and 15 (PDF download).
Clinton trails four of the five Republican candidates, leading only Donald Trump with a tenuous 1 percent. Conversely, Bernie Sanders ran ahead of the field by an average of 7.2 percent, leading all five Republicans by margins ranging from 4 to 10 percent. Matched against five prospective opponents, Sanders fared better than Clinton by an average of 10.8 percent.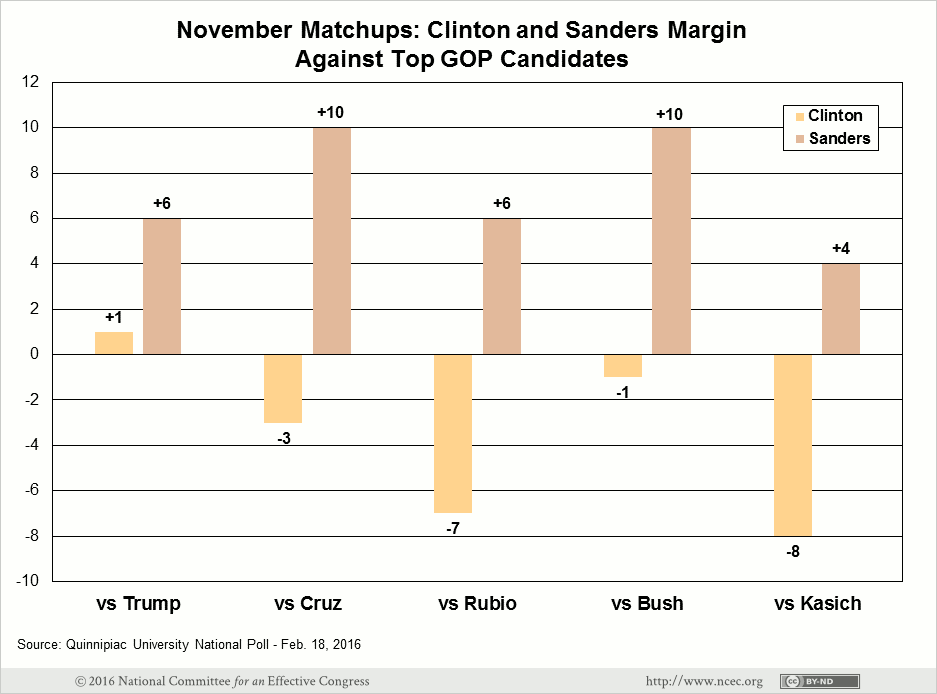 While it is unclear whether this finding is a reliable indicator of performance in November, the argument that Clinton will win and Sanders will not is effectively repudiated.
The impact on Senate and House races, where the NCEC is actively involved, is opaque yet there is no current evidence that Sanders' message would negatively impact Democratic opportunities in November. In fact, there are several reasons for optimism about House and Senate prospects.
A net gain of five seats would win Democratic control of the US Senate (four if the vice president is a Democrat) and polls reveal Democrats are highly competitive in Florida, Illinois, New Hampshire, Ohio, Pennsylvania, and Wisconsin—all currently held by Republicans. Barack Obama carried all 6 of these states in the last presidential election. Only Nevada, where Senate Leader Harry Reid is retiring, seems endangered for Democrats right now.
In the event of a Democratic wave this fall, Republican seats in North Carolina and Arizona may also be in play.
As for the House, Democrats need a net gain of 30 seats to garner a majority. While this still seems highly unlikely, there is evidence that Democratic prospects are improving. Remember that Democrats gained House seats in the last two presidential elections, while losing a massive number of seats in both 2010 and 2014. The presidential year electorate is younger and more diverse than the vote in midterm elections.
Recent legal decisions regarding unlawful redistricting have placed Democrats in a strong position to gain at least three Republican-held seats. Democratic pick-ups are virtually assured in Virginia's 4th and Florida's 10th and 13th districts, while an additional opportunity exists in Florida's 26th.
Open seats also provide a strong opportunity for Democratic gains in Michigan 1, Minnesota 2, Nevada 3, and New York 19 and 22. And the Republican-held districts of Pennsylvania 8 and Virginia 2 appear particularly vulnerable since Barack Obama carried both of these states in the 2012 election.
A majority of the Democratic incumbents who barely survived in 2014 are geographically isolated in districts where presidential year turnout favors Democratic candidates. The best examples are five California districts with heavy concentrations of African American, Asian, and Hispanic voters.
A number endangered Republican incumbents, combined with the arithmetic of turnout patterns and open seats portends a Democratic gain in excess of 10 seats.