John Kasich may be closing in on Donald Trump in Michigan. According to an American Research Group poll published March 5, Kasich leads Trump 33 percent to 31 percent. The ARG poll may be an outlier, as previous well-respected surveys done around the same time show Trump with a double digit lead. However, an additional Monmouth Poll released on March 7 appears to confirm that Kasich has some momentum, surpassing Marco Rubio and running just two points behind Ted Cruz. These surveys raise many questions about the future of the Republican race and the general election.
As of March 8, John Kasich has a meager delegate count of 37 of the 1,237 needed for the nomination. A Michigan win is certain to propel the governor to an Ohio victory on March 15, where a recent Quinnipiac poll shows him within 5 points of Donald Trump (PDF download). Finishing on top in these two states would provide Gov. Kasich even more traction going forward.
In the event of a brokered Republican convention, there will likely be a deadlock on the first ballot, with the final outcome totally unknown. The GOP establishment will desperately be seeking an alternative to Trump, and Kasich, not Marco Rubio, would become the more sensible choice. While this scenario is based on unpredictable assumptions, it is still plausible despite Saturday's primary and caucuses.
Considering such a scenario, let's take a look at the Electoral College mathematics for John Kasich:
Like any other GOP candidate, he would start with 164 electoral votes, mostly in Rocky Mountain and Southern states. That would still leave him 106 electoral votes short of a majority.
Additionally, Kasich would have a strong lead in 3 more states, where 42 electoral votes are cast: Arizona, Georgia, and North Carolina. (For the purposes of this analysis, well put these in Kasich's column.)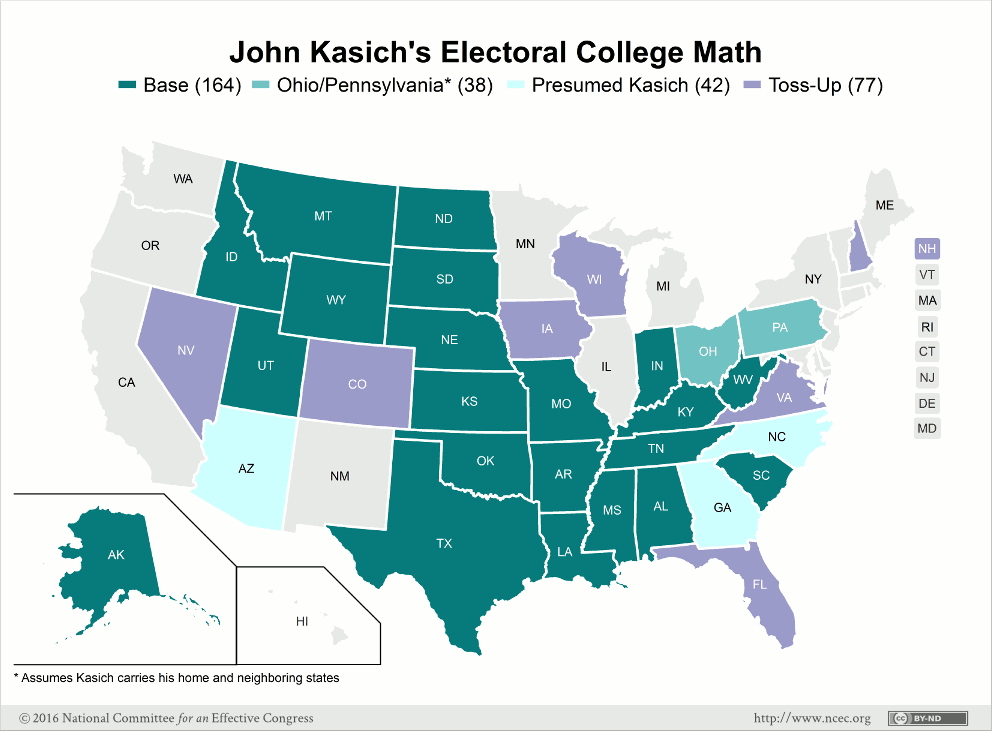 Kasich's greatest advantage is that he would be the favorite to retain his home state of Ohio, where a crucial 18 electoral votes are cast. No Republican has ever won the White House without carrying Ohio. A win at home combined with solid and leaning-Kasich states would amass 224 electoral votes for the Ohio governor. He would need only 46 more to win.
There will be 77 electoral votes cast in the traditional toss-up presidential states:
| State | Electoral Votes |
| --- | --- |
| Colorado | 9 |
| Florida | 29 |
| Iowa | 6 |
| New Hampshire | 4 |
| Nevada | 6 |
| Virginia | 13 |
| Wisconsin | 10 |
The needed 46 electoral votes likely emerge from these states.
A bonus that sets Kasich apart from the other Republican contenders: the plausibility of winning Pennsylvania and its 20 electoral votes. As the governor of bordering Ohio, he would irrefutably be a strong Republican in the western segment of the Keystone State, and might even hold his own in the Philadelphia suburbs. If Pennsylvania is added to the above list of traditional toss-up states, Kasich would need only 46 of the 97 available electoral votes to reach the magic number: 270.
Finally, we can expect that changing demographics make it more likely than not that the Democratic candidate wins the six Nevada electoral votes. Even so, Kasich is still in a strong position that may become irrevocable if he can win Pennsylvania. Moreover, the most predictive state in the country, Virginia, sets up perfectly for a Republican like John Kasich.
John Kasich is the most formidable Republican nominee, by transcending the conventional wisdom of electoral college possibilities.