The Aug. 7 special election in Ohio's 12th Congressional District—pitting Democrat Danny O'Connor against Republican Troy Balderson—will be closely watched. It is another chance to see if the Democrats can overperform in yet another special election, which at this point looks extremely likely. A Monmouth poll this week shows that only 1 percentage point separates the two (O'Connor 45% – Balderson 46%). An outcome even close to this would signal a return to a high-water mark for Democrats, not seen since 2008.
Though the district has been represented by Republicans since the 1980s, it has at times shown indications of competitiveness. Before the Republican gerrymander in 2011, the 12th Congressional District was dominated by Franklin and Delaware county (specifically the suburban-exurban outskirts of Columbus), with Democratic Performance (DPI) close to 50 percent. In 2011, all or part of four more rural counties were added. The share of district population comprised by the two counties dropped from almost 90 percent to 52 percent. To offset the change, the remainder of Licking County, all of Morrow County, and parts of Marion, Muskingum, and Richland counties were moved into the 12th District. Together, these new areas have a combined DPI less than 45 percent.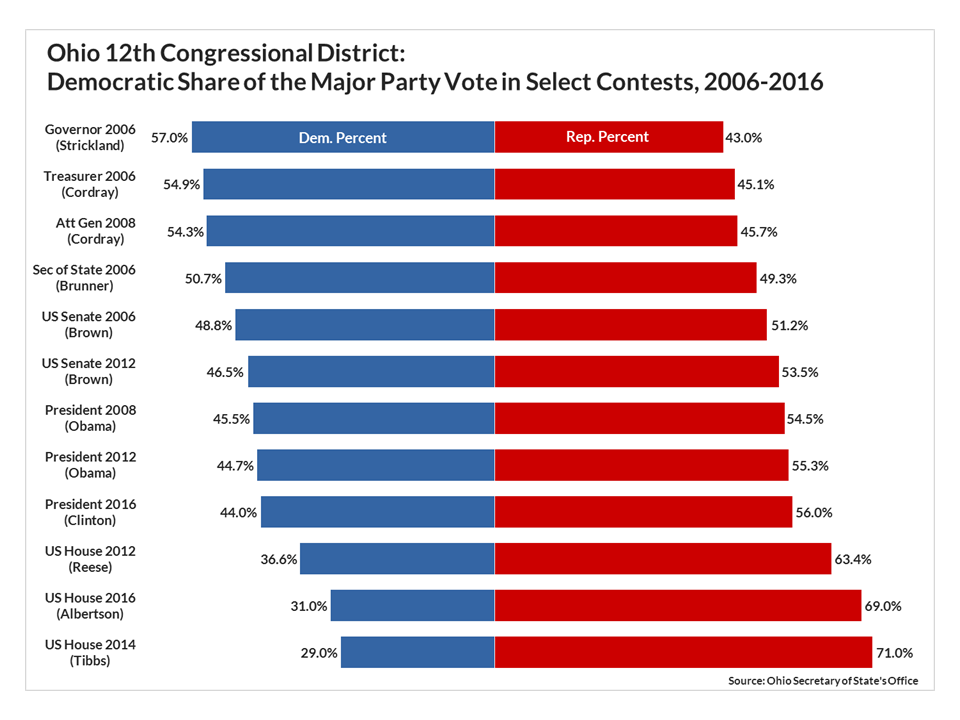 Perhaps not surprisingly, the profile of the 12th District is similar to many others—primed to change support to the Democrats this year. Over half of the district area lies in the suburbs. Demographically, close to 90 percent of the voting age population is white, with African Americans, Asian Americans, and Latinos making up another 9 percent. Like other districts, nearly 40 percent of residents have at least a bachelor's degree.

Current DPI is 43.5 percent, based on recent races for President, US Senate, and Governor. In general, results for Democratic candidates in the district are mixed. Democrats who perform well statewide also tend to do well among voters in the 12th Congressional District. Former governor Ted Strickland garnered 57.0 percent of the major party vote (MPV) here in 2006—the best result for any Democrat in the district since 2000. However, the last time a Democratic candidate carried this district was in 2008, when Richard Cordray received 54.3 percent MPV in a special election for attorney general. Since then, the best result for a Democrat in the district was Sherrod Brown's 46.5 percent MPV in the 2012 election for US Senate.

Late support for O'Connor is more remarkable considering the last three elections for US House in the 12th District. From 2012 to 2016, none of the Democrats running against incumbent Rep. Pat Tiberi earned more than 36.6 percent MPV. Average Democratic support in those contests was 32.1 percent.

If support for Danny O'Connor on Aug. 7 were to reach 45 percent, that would be a significant outcome for this solidly Republican district. Even the 39.7 percent average O'Connor support from three public polls marks a significant improvement over what Democrats should expect from this district. If the result next week is close to either of these scenarios, it would strongly reinforce the growing belief that a blue wave is coming this November, and that Democratic control of the US House in 2019 is inevitable.